New Retail Summit 2021: REALISTIC FUTURE OF RETAIL - Digitalization. Sustainability. Flexibility
The world of retail has been undoubtedly changing and thanks to Covid pandemics the changes have been quicker than expected. What looked as a distant future has appeared to be much closer future or even reality of today.
What are the key trends and parameters shaping current and future retail not only in Slovakia but worldwide?
It appears that high internal and external flexibility, quicker adoption of new technologies including digitalization of systems and processes, and at the same time increasing focus on long-term sustainability at all levels – business, social, ecology, play as key characteristics of future retail development.
New Retail Summit 2021 is going to offer plenty of various opinions, inspirations, and recipes that will contribute to further successful development of the Slovak retail.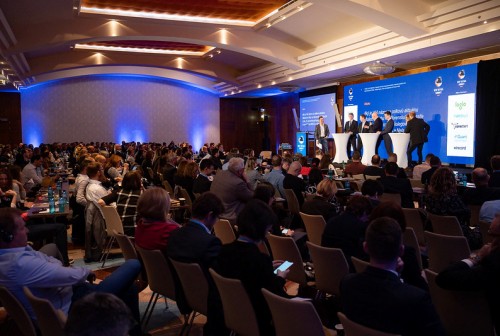 New Retail Summit 2021: Key facts
When? September 8, 2021
Where? DoubleTree by Hilton, Bratislava
For whom? The Summit is targeted on everybody trusting "new retail" is the growth opportunity for doing business in Slovakia. So we expect participation of managers from retail companies and (goods, services and technology) suppliers.
Who? New Retail Summit 2021 is prepared by Blue Events in co-operation with SAMO (Slovak Association of Modern Trade), SZZV (Slovak Associations for Branded Products), ZO SR (Slovak Confederation of Commerce) and Mastercard.